Exhibition 2009
7th November
10:00am - 16:30pm
Admission Prices:
Adult £2.00
Senior £1.50
Child £1.00
Family £5.00
Where will it be held?...
LOCATION

St Mary's House, Hobs Meadow
Solihull B92 8PN

Motorway: M42 Junction 5
Railway: Olton Railway Station
Airport: BIRMINGHAM INTERNATIONAL

The 71, 72 and 57a buses stop in front of the nearby ice rink. The 57, 58, 60 and 900 all stop on the A45.
Bus information available from
Network West Midlands on 0871 200 22 33 or www.travelinemidlands.co.uk

FREE car park next to exhibition

Traders:

Keith's Model Railways

2 Holyrood Drive, Countesthorpe, Leicester LE8 3TR
Telephone: +44(0)116 277 8634
New and second hand Model Railways, (run by genuine enthusiast).
Ians Trains
12, Hollyoak Road, Sutton Coldfield,
West Midlands, B74 2FG
Telephone: +44(0)121 353 1948
Providing a comprehensive selection of new and pre-owned desirable model railways in, O, OO, and N-Gauge from mint and boxed loco's to useful bargain accessories. Supporting numerous exhibitions throughout the Midlands and beyond.
Steve Currin Book Sales

Telephone: +44(0)7796 863249
Email: Stevegwc1@blueyonder.co.uk
Buyers and sellers of new and second-hand railway books.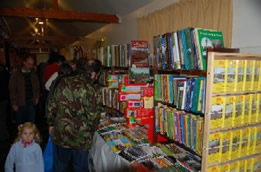 Corris Narrow Gauge Railway
The Corris Railway was the first narrow gauge railway in Mid-Wales, beginning in 1859 as a 2'3'' gauge horse-hauled tram road carrying local slate. Steam arrived in 1878 and a passenger service operated from 1883 to 1930. The Railway closed in 1948 and was dismantled soon afterwards. A Preservation Society reinstated part of the original line so that passenger services could recommence in 2002 after a break of 72 years. We have on sale second hand railway books, videos/dvds and some model railway items, new Corris Railway items and books, children's toys and books and range of Thomas the Tank items.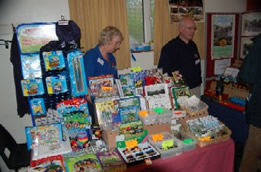 Solihull Model Railway Circle reserve the right to make changes to our programme and we cannot be held responsible for layout failing to arrive on the day of the exhibition.

Who was there?...
1. Cherwell
4mm Scale, OO Gauge
Solihull Model Railway Circle
A scenic OO gauge, 26 feet 6inches by 10 feet 6 inches, four track mainline with an integral branch line. It features working automatic signals and has largely scratch built buildings with a local theme (The Manor House, The Mason's Arms, The George Hotel, The Fat Cats, Kings Heath libuary, Tyseley Station, and Water Orton Station). The layout was built mainly to display scale length mainline trains, those being run reflecting the varying interests of the membership. Trains run are usually British outline, but can come from any part of the UK mainland and from any date between about 1900 and 2009. If you look carefully you can see: Pigeons roosting under the station bridge; Foxes using the trackbed as a shortcut and one fox eying lambs, gulls eggs and the shepherd on the upper pasture; Cats watch building work in the arch from the platform; Gulls above the sea and on the cliffs with a lonely Cormorant.
2. Millbenton Lane
4mm Scale, OO Gauge
Mark Miller
A DCC Diesel Layout set in the Late 1990's to present day, fictious layout set in the West Midlands, all types of traction can be seen from a class 08 to a class 66 the layout being inspired by Bescot Yard in Wallsal the layout has 4 main sidings which disappear under the local bypass and a small TMD and Stabling sidings to the front of the layout
Hornby Select DCC Controllers are the souce of power and rolling stock is Hornby, Bachmann ,Vitrains and Heljan.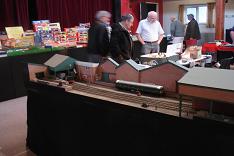 3. Merlinwood
7mm Scale, O Gauge
Bulit by the late Mike Cole,
owned by John Ross
The idea for Merlinwood, which represents part of large MoD establishment came from the workings of the Bicester Military Railway during the late 1980's/early 1990's. This ordnance depot on the outskirts of Bicester in Oxfordshire used a fleet of small diesel locomotives specially purchased from Thomas Hill to shut an amazing variety of refurbished mainly vintage short wheel base vans and wagons between the numerous warehouses on the site. Merlinwood located somewhere deep in the heart of Wessex, is responsible for the receipt, storage and distribution of mundane but essential supplies necessary for the day-to-day operations and well being of our armed forces. This means the depot has a very low security rating and although organised and managed by military personnel, employs mainly civilian workforce. The locomotive fleet operating at Merlinwood, unlike the fleet at Bicester, is a mixture of British Railways and other privately owened diesel and steam.
4. Waterfall Junction
2mm Scale, N Gauge
Ken Jones
This freelance N gauge layout measuring less than 2ft by 18 in [60cm x 46cm] was built in 1999 by me to act as a test bed for some of my rolling stock but went on to become a layout in its own right. It could be anywhere in rural England, Scotland or Wales and various locomotives negotiate this tight single track line passing under the waterfall which was the place that the main line, now a mere siding, joined this delightful scene. The waterfall and river are made from a 2 pack Faller system, the track is Peco and the controller is a special one built locally by Len Bane to enable slow running. The Bridge is a cut down Kibri Kit painted with Humbrol paints. The accessories include people from Preiser, tents from Busch and the land rover and grounded wagon are white metal kits from P & D Marsh. Tender locomotives and those with a long wheelbase cannot negotiate the tight curves. 0-6-0 tank engines can run around the circuit, but usually you will see diesels from Graham Farish and Minitrix pulling Lima coaches. Look out for campers, a train spotter, and a man with his dog and another one cycling home from work. Closer inspection will even show the ripples in the river.
The suitcase is a Python rigid expandable suitcase from the 1960's, the middle one of a set of three that my friend Peter Dale was throwing away. More information and photographs at www.kenjonestrains.co.uk
5. Pending
2mm Scale, N Gauge
Ken Jones
An N gauge layout designed and built by Ken Jones using an A4 box file in 2003, inspired by a 009 layout by Barrie Etter. The staples holding the front panel of the box were carefully removed and the spring and fitting for holding paperwork in the box discarded with. The layout is a scene from an industrial heritage site, that some people want to preserve, and others want to demolish and redevelop. Sometimes the developers arrive by helicopter [Revell customised kit] but most days the conservationists have a 0-6-0 working a circular track throughout the site. Normally it is a Farish Austerity in ex works NCB livery or black livery or even a 08 shunter. There is an abandoned mineral line and the buildings were made from bits and pieces from other models including Kestrel Kits. Everything used to make this layout [except the helicopter] was acquired second hand. The track is actually Peco 009 gauge "crazytrack" as it was impossible to bend N gauge track to fit the box file even by removing several sleepers. The layout appeared in N Bahn Magazine in 2004. The same year the layout made its first public appearance.
The name "Pending" comes from the fact, like in real life, no decision has been made on the future of the site, or because "Pending" is often put into a box file. More information and photographs at www.kenjonestrains.co.uk
6. The Works
2mm Scale, N Gauge
Ken Jones
This layout was inspired by Mr Ian Redman, who laid the track for Ken. The layout is built in a double video case box. It depicts part of Unit 12 in a chemical works. Arnold 0-4-0 shunters work below the many pipes while workers get on with their work. Note the absence of hard hats. The pipework is custom built and some is from Knightwing. Some of the tanks are from Kestrel and others are by Ten Commandments and Rodney Hodge. The fork lift truck and other items are from Ken's "keep until needed" box. The layout measures less than 8 in x 5 in [20cm x12cm]. The layout was finished in 2008. It made its first public appearance in Jan 2008 at the Dartford Exhibition, since when the pipework and detailing have been finished. The layout continues to make guest appearances at shows. The layout has inspired others to start building their own layouts, perhaps not in such a small area, and one of the goals has been to show people that you don't always need a large space to enjoy the hobby. More information and photographs at www.kenjonestrains.co.uk
7. Harchester Stabling Point
4mm Scale, OO Gauge
John Anderson,
Nailsea & District MRC
Where is Harchester? Well Harchester is located in the Midlands and as such is a focal point for rail activity; not to mention one of the Premiership's great unknowns Harchester United, or the Dragons to their fans, whose home is the Dragon's Lair. The small locomotive stabling point at Harchester is used by all manner of sectors from Intercity and Parcels to Railfreight Distribution, Coal, Metals, Oil and Construction. In fact only at Saltley in Birmingham could such a variety of motive power have been seen. However the plans for the Dragons is to build a new MEGA-Stadium called "THE DRAGONS VILLAGE", such a plan will see the end to the Stabling Point as it is swallowed up by the new stands. Enough story telling, Harchester was conceived as a working diorama to show my GROWING stock of customised locomotives (now with DCC sound chips) and rolling stock in a realistic setting. The diorama also provides a front piece behind which I can demonstrate the techniques that I use.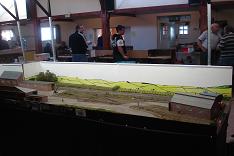 8. Dovington Camp
4mm Scale, OO Gauge
Paul Taylor,
Nailsea & District MRC
Dovington Camp was developed during WWII as an Army stores & training depot, with quite an extensive rail network. This has been 'rationalised' over time but it still maintains a rail link for the movement of fuel, stores, munitions and, of course, a wide variety of military vehicles. It retains an old WD/MoD loco, or two, for shunting within the depot. The main stores and office have been built with the interiors open to the public. With military buildings not altering a great deal over time, the use of different interiors in these buildings, together with a variety of railway stock/locomotives, military vehicles, signage etc., allow operations throughout the 1960's – 1990's and different geographical locations to be modelled. Dovington is of a modular nature and is seen here in its smallest format. It can take several forms/sizes and can be combined with Paul's other layouts Whitchurch Canonicorum (1960s) and Aneilan Road (1990's). Further details are available on request.
9. Wesslingen
3.5mm Scale, HOM Gauge
Gary Ball
Representins a Swiss/Austrian situation including a 1/18 incline which comes out ofa tunnel onto a viaduct. Also features auto level crossing barriers; a cable car, and a classic car gathering.
10. The Isle of Mudd
OO9 Gauge
Simon Coward
represents a fictitious narrow gauge colonial railway set in the 1970's as diesels start to take over from steam and the railway starts to introduce new methods of operation. The model shows Elizabeth Town station with its old steam shed going out of use while next door the new diesel shed is just coming into service. The layout takes a lot of its influence from the narrow gauge railways of South Africa as well as various other lines around the world. The layout is modelled in 009 with DCC control.
11. Dean Land
2mm Scale, N Gauge
Roger Dean
Dean Land is a village in Dorset, but the railway is fictious. It's a rural village station, with a goods yard and engine shed. Track is set track 80. Models are Hornby Liddle end. Controlled by gaugemaster series model d plus a hand controller model.