Exhibition 2004
Saturday
13th November
10:30am - 5:00pm
Admission Prices:
Adult £2
Senior / Child £1
Family £5.
Where was it held?...
1st Shirley Scout Headquarters
(rear of Bank of Ireland) Stratford Road (A34) Shirley, Solihull.
Birmingham A to Z Ref:
Page 107, H4.
FREE car park next to exhibition.


Leave M42 at Junction 4.
Follow signs to Birmingham (A34).
Stay on A34 until Saracens Head pub on left in Shirley.
Turn left 100 yards past Saracens Head into service road leading to a car park at the rear of the shops.
Exhibition Hall is next to the British Legion Building.
Traders

Keith's Model Railways

2 Holyrood Drive, Countesthorpe, Leicester LE8 5TR
Telephone: 0116 277 8634
New and second hand Model Railways, (run by genuine enthusiast).
The Corris Railway

The Corris Railway was the first narrow gauge railway in Mid-Wales, beginning in 1859 as a 2'3'' gauge horse-hauled tram road carrying local slate. Steam arrived in 1878 and a passenger service operated from 1883 to 1930. The Railway closed in 1948 and was dismantled soon afterwards. A Preservation Society reinstated part of the original line so that passenger services could recommence in 2002 after a break of 72 years. We have on sale second hand railway books, videos and some model railway items, new Corris Railway items and books, children's toys and books and range of Thomas the Tank items.
website

G.W.R. Sales Stand

The Gloustershire and Warwickshire Railway (Birmingham Division) Sales stand, helps to rebuild the railway from Toddington to Cheltenham Racecourse. We have a selection of Railway Models, 'Day Gone By' Road Models, Toys, Jigsaws, Books and Stocking Fillers for Christmas.
website
Solihull Model Railway Circle reserve the right to make changes to our programme and we cannot be held responsible for layout failing to arrive on the day of the exhibition.
Who was there?...

1. Cherwell
4mm Scale, OO Gauge
Solihull Model Railway Circle

Cherwell, is a scenic OO gauge, 26 feet 6inches by 10 feet 6 inches, four track mainline with an integral branch line. It features working automatic signals and has largely scratch built buildings.

Over the past 12 months additional momentum has been gained following the invitation of Cherwell to the Warley Model Railway Club's National Railway Exhibition at the NEC in 2006.

We have partially rewired the layout for added reliability and added some more scenery and buildings. This includes:
· Timber yard at the end of the Tramway.
· Tunnel entrances below the upper branch station.
· Stone capping on various walls.
· Greenery along retaining walls.
· New Houses.

The layout still needs a lot of buildings and scenery work. The layout was built mainly to display scale length mainline trains, those being run reflecting the varying interests of the membership. Trains run are usually British outline, but can come from any part of the UK mainland and from any date between about 1900 and 2004.
2. Kendorf
1mm Scale, Z Gauge
Ken Jones



This is Ken's first Venture in Z gauge, which is a fictitious small town in the mountains in Germany, famous for it small chapel and Martyr's cross.

The railway enters the town with it's typical one German platform from single track tunnels within the hills.
There is a passing loop and though line at the station allowing lots to happen for such a small place. Look out for the special beer train.

(Ken is better Known for his N gauge layouts. His suitcase layout appeared at our Exhibition in 2002)
website

3. Pending
2mm Scale, N Gauge
Ken Jones



A Continuous layout built in an A4 box file just to show what can be achieved with N gauge.

Set in a heritage industrial site, which some people are keen to preserve and other want to redevelop - A 0-6-0 tank loco or class 08 shunter goes round while oberservers decide whether to keep the site or not.

Ken was challenged to make this layout, following the success of his suitcase layout.
website

4. Ridgacre Road
4mm Scale, OO Gauge
Malcolm Yates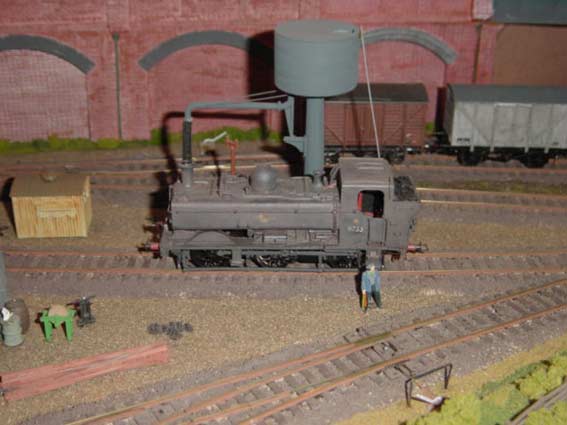 This minimum space layout represents a fictitious industrial complex on the outskirts of Birmingham and the black country in the mid – 1960's. Freight traffic is brought into the yard by BR (WR) pannier tanks. The yard is shunted by a couple of engines operated by the factory.
My next layout is fixed in the loft, and based on Arley on the Severn Valley Railway. I have an article about it in the February 2005 edition of 'Model Rail'.

5. Capel Blaenau
009 Narrow Gauge
John Perkin

Capel Blaenau is a fictitious location situated in North Wales on the edge of Snowdonia. The narrow gauge railway was originally built at the start of the 20th Century to serve the local slate quarries in the region, though timber, and increasingly passengers formed the mainstay of traffic.

As elsewhere in the region these fell into decline in the mid 1920's and winter passenger trains were discontinued from 1932. The line closed during the second world war and reopened in 1947 and survived thanks to a local publicity campaign until the late 1950s.

The period depicted is prior to closure with the quarries still in operation. Traffic on the line consists of local passenger services, together with slate and other mineral traffic. Because of under investment in the line motive power has to be hired in from other nearby railways including the Ffestiniog, Tallylyn, and the former Great Western Railway.

6. Buxton
2mm Scale, N Gauge
Michael Tooth

As Featured in ModelRail No.52 February 2003
This is a model of Buxton station and the diesel - fuelling depot. The period is from the 1980's to the closure of the depot in the 1990's. The station serves passengers to Manchester and the surrounding districts. The depot re - fuels and services loco's mainly from the stone quarries around this area.

All of the buildings are scratch built by me from phototographs and a visit to the site. The track is 'peco' and the scenics are from 'Greenscene'.

My Thanks go to Stephen Farmer for all the advice, help with the electrics and transportation to the venues. Also to Adrian Newman for the loan of some early photographs of Buxton. Fred and John who assist at Exhibitions.
To view Buxton Photos Click Here
7. Laxey
2mm Scale, N Gauge
Margaret and Ken Stephenson

Laxey is a fictitious location in America. Buildings are scratch. There is a mine and small harbour.

8. Birmingham MRC
Junior layout
Birmingham Model Railway Circle
website

Eight foot by two foot junior layout and a display of various model railway items by the Birmingham Model Railway Club.
9. Dabeallie
7mm Scale, O Gauge
Barry Pallett, Member of 'Birmingham Society of Model Engineering'


Dabieallie is on the Speyside line which opened in July 1865 it followed the River Spey, from Craigellchie, to the Boat of Garten and is part of the Great North of Scotland Rialway'. The period modelled is 1896-1904.
10. Aberdaugleddaw
4mm Scale,OO Gauge
John Anderson


Aberdaugleddaw takes its inspiration from the area known as the "Little England Beyond Wales", an area crossed by the lines to Milford Haven, Pembroke dock and Fishguard Harbour. Aberdaugleddaw, itself, takes features from each linein an attempt to recreate a terminus at the end of the line from Paddington via Swansea.


The Start of the last decide of the 20th century was a time for change in West Wales with the loss of direct services to London and radical change in the parcels and freight areas. Aberdaugleddaw, although losing its daily HST to London, still retains newspaper and mail trains with an improved sprinter service to Swansea, Cardiff and beyond.
Freight is very buoyant with a revitalisation of the dock area to serve the import and export of steel products. The MOD also have a strong presence with two depots on the Aberdaugleddaw branch. Although not seen at the terminus itself,oil trains still move huge tonnages out from the West Wales refineries and a new flow of coal has also began using a redundant refinery wharf. The fuelling point at Aberdaugleddaw still solders on to serve locomotives working freight trains in the area and also any On – Track plant equipment working in West Wales.
If you know of any interesting workings in West Wales, I would be very interested to hear about them as I am always looking for new services to run on the layout.