Exhibition 2008
Saturday
8th November
10:00am - 16:30pm
Admission Prices:
Adult £2.00
Senior £1.50
Child £1.00
Family £5.00
Where will it be held?...
LOCATION

St Mary's Curch Hall, Hobs Meadow,
Off Hob's Moat Road, Solihull B92 8PN


Motorway: M42 Junction 5
Railway: Olton Railway Station
Airport: BIRMINGHAM INTERNATIONAL

The 71, 72 and 57a buses stop in front of the nearby ice rink. The 57, 58, 60 and 900 all stop on the A45.
Bus information available from
Network West Midlands on 0871 200 22 33 or www.travelinemidlands.co.uk

FREE car park next to exhibition

Traders:

Keith's Model Railways

2 Holyrood Drive, Countesthorpe, Leicester LE8 3TR
Telephone: +44(0)116 277 8634
New and second hand Model Railways, (run by genuine enthusiast).
Ians Trains
12, Hollyoak Road, Sutton Coldfield,
West Midlands, B74 2FG
Telephone: +44(0)121 353 1948
Providing a comprehensive selection of new and pre-owned desirable model railways in, O, OO, and N-Gauge from mint and boxed loco's to useful bargain accessories. Supporting numerous exhibitions throughout the Midlands and beyond.
Steve Currin Book Sales

Telephone: +44(0)7796 863249
Email: Stevegwc1@blueyonder.co.uk
Buyers and sellers of new and second-hand railway books.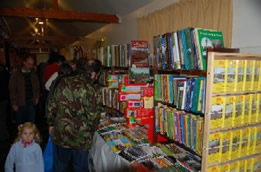 Hobby View

40 Underhill Lane, Underhill
Wolverhampton WV10 8NS
Telephone: +44(0)1902 831296
Email: hobbyview@blueyonder.co.uk
DVD and Video specialist, for the rail enthusiast.

Corris Narrow Gauge Railway
The Corris Railway was the first narrow gauge railway in Mid-Wales, beginning in 1859 as a 2'3'' gauge horse-hauled tram road carrying local slate. Steam arrived in 1878 and a passenger service operated from 1883 to 1930. The Railway closed in 1948 and was dismantled soon afterwards. A Preservation Society reinstated part of the original line so that passenger services could recommence in 2002 after a break of 72 years. We have on sale second hand railway books, videos/dvds and some model railway items, new Corris Railway items and books, children's toys and books and range of Thomas the Tank items.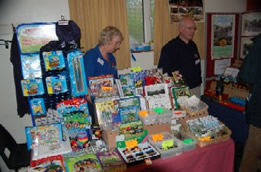 Solihull Model Railway Circle reserve the right to make changes to our programme and we cannot be held responsible for layout failing to arrive on the day of the exhibition.


Who will be there?...
1. Cherwell
4mm Scale, OO Gauge
Solihull Model Railway Circle
A scenic OO gauge, 26 feet 6inches by 10 feet 6 inches, four track mainline with an integral branch line. It features working automatic signals and has largely scratch built buildings with a local theme (The Manor House, The Mason's Arms, The George Hotel, The Fat Cats, Tyseley Station, and Water Orton Station). The layout was built mainly to display scale length mainline trains, those being run reflecting the varying interests of the membership. Trains run are usually British outline, but can come from any part of the UK mainland and from any date between about 1900 and 2008. If you look carefully you can see: Pigeons roosting under the station bridge; Foxes using the trackbed as a shortcut and one fox eying lambs, gulls eggs and the shepherd on the upper pasture; Cats watch building work in the arch from the platform; Gulls above the sea and on the cliffs with a lonely Cormorant.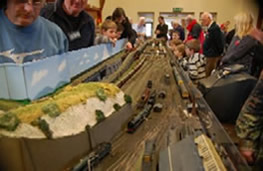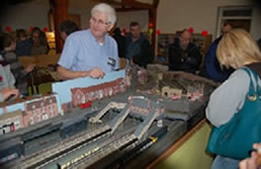 2. Rowington for Shrewley
4mm Scale, OO Gauge
Richard Wright-Hewins
The layout has 16.5mm gauge code 65 trackwork by SMP. It has working signals made from various suppliers' components. Both points and signals are controlled electrically. Buildings and structures are modified kits or scratch-built and are all Great Western Railway prototypes. The scenics are from Penhaven Products and Woodlands Scenics, but the trees are handmade. Rolling stock is also handbuilt – there is no ready-to-run on this layout – so please do not touch! The period chosen is 1922, so some of the coaches are correctly maroon, rather than the usual GWR chocolate and cream. Please ask the exhibitor if you have any questions about the layout. Younger enthusiasts might like to guess how many cats there are on display. It has been around for some years, but this may be its last exhibition, so please enjoy it while you can!
3. The Yard
4mm Scale, OO Gauge
Birmingham MRC
Loosely based on Hucknall, near Nottingham - in the East Midlands. It has been conceived and designed by a new club member, to fit into rear of small car - however, as an additional fiddleyard is now attached, it may require 2 cars! Operation is based on current practice and stock, consisting of modern image freight stock and Dmu's. Running on PECO OO-gauge track and using off the shelf models. Details of the various stages in the development and construction are attached to the front of the layout.
4. Preservation Road
2mm Scale, N Gauge
Roger Dean
A compacted freelance loco depot with all the locomotives being preserved in various locations across the UK (hence the name). Plus a rural village and country station – Pickle Halt. The main control is a Graham Farish power plug in unit with a hand held power box 300. Track is Peco set track 80. Bulildings are Metcalfe, Ratio Liddle end and Peco. The auto train works on a shuttle system.
5. Graben See
3.5mm Scale, HO Gauge
Ken and Margaret Stephenson
is a fictitious location station in Germany. Train run from fiddle yard to the lakeside station. Trams run along the road, which is on a higher level.
6. Ashwood Basin
7mm Scale, 0 Gauge
Mike Bragg
The Prototype 'Ashwood basin' was on the Staffordshire & Worcestershire Canal and was the western terminus of the Earl of Dudley's Railway system, dating back to its opening in 1829. Today virtually all signs of the railway tracks have disappeared and it is now a marina for pleasure craft. From Ashwood basin the line ran to Shut End, and the collieries at Corbyn's Hall near Lenches Bridge. The railways main purpose was to convey coal to the canal and this continued until the NCB stopped sending Baggeridge coal to Stourport Power Station via the canal in October 1953. The model follows the principals set out in Lenches Bridge (as a future extension) as an attempt to create the essence and atmosphere of the area rather than an exact copy of the prototype. The track plan if you can call it a plan is really no more than a run round with two extended head shunts to create the sidings, one extends over the canal on a wooden trestle whilst the other runs alongside the canal. There is a Joey in the canal basin to the BCN design (double ended so that the rudder could be fitted either end so the Joey didn't require turning) and a British Waterways day boat.
7. New Harbour Junction
7mm scale, O Gauge
Rob Newman
At just 14ft x 1ft 4in this is a compact 0 Gauge layout of the interchange point between the British Railways line and the parallel light railway serving a small dock complex (beyond the bridge). Passengers can change from the British Railways train (more often than not a 'Derby Lightweight' railcar) to the adjacent light railway which provides a 'Galloping Goose' railcar for their passengers. Freight wagons are hauled up from the harbour by a variety of steam or diesel industrial locomotives, to be collected by the BR pick-up goods using the connecting spur. Larger BR tender locomotives often pass by New Harbour Junction as light engines on their way to a nearby motive power depot. The layout can be operated to accommodate rolling stock from different parts of the country so changes in location may be made during an exhibition.
8. Somerwood
32mm Scale, G Gauge
John Perkin
Somerwood is a portable Model Railway Layout built to show what can be achieved in a small space in the much larger "G Scale Railways". All of the stock used today is normally run on the "Oakland Light Railway" (The Innominate Line) which is a Garden layout built in G Scale.
Stock is either ready to run or modified to suit operational needs. The layout is built on 6 boards specially constructed to fit into a family hatch back car for easy transportation. Electric contact is very simple with just a two wire feed to the track from the controller. All locomotives have been fitted with an On/Off switch which isolates the electrics when not in use, thus eliminating the need for isolation sections in the track. Most buildings are scratch built and the figures are mainly Modeltown. The operators will be happy to try to answer any questions you may have, and will be pleased to show you photographs of the garden line to anyone interested.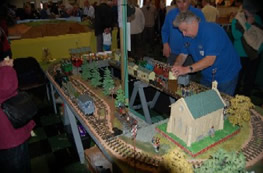 9. Whitelo
4mm Scale, OO Gauge
Richard Boyce
A compact Hornby Dublo 3 rail scenic layout with winter and summer displays. (look both sides) For the little ones, Thomas and Percy make an appearance.
10. Latham's Brewery
OO9 Narrow Gauge
Julien Webb
The layout represents E. Latham's "new" brewery, built in 1886. The year is 1937, and the brewery is seeing a period of high production after the lean time of the general strike and depression. It does not represent any particular prototype, but takes its inspiration from the extensive standard gauge systems found in the breweries of Burton-upon-Trent and the famous narrow gauge system at the Guinness brewery in Dublin. The buildings, in the main, are built using Kappa board faced with Slater's embossed plastikard, with the architectural details from commercially available sources. The windows and vents in the maltings building have header arches produced from computer chads. The locomotives are mainly white metal kits with one or two scratch-built items, and the majority of the rolling stock from plastic kits, again with some scratch-built vehicles. The lettering seen on the vans and open wagons has been hand painted.