Exhibition 2007
Saturday
17th November
10:30am - 16:30pm
Admission Prices:
Adult £2.00
Senior / Child £1.00
Family £5.00
Where was it held?...
NEW LARGER LOCATION

St Mary's Curch Hall, Hobs Meadow,
Off Hob's Moat Road, Solihull B92 8PN

Motorway: M42 Junction 5
Railway: Olton Railway Station
Airport: BIRMINGHAM INTERNATIONAL

The 71, 72 and 57a buses stop in front of the nearby ice rink. The 57, 58, 60 and 900 all stop on the A45.
Bus information available from Network West Midlands (Centro) on 0121 200 2700 or www.travelinemidlands.co.uk

FREE car park next to exhibition

Traders:

Keith's Model Railways

2 Holyrood Drive, Countesthorpe, Leicester LE8 3TR
Telephone: +44(0) 116 277 8634
New and second hand Model Railways, (run by genuine enthusiast).
Corris Narrow Gauge Railway
The Corris Railway was the first narrow gauge railway in Mid-Wales, beginning in 1859 as a 2'3'' gauge horse-hauled tram road carrying local slate. Steam arrived in 1878 and a passenger service operated from 1883 to 1930. The Railway closed in 1948 and was dismantled soon afterwards. A Preservation Society reinstated part of the original line so that passenger services could recommence in 2002 after a break of 72 years. We have on sale second hand railway books, videos and some model railway items, new Corris Railway items and books, children's toys and books and range of Thomas the Tank items.

Hobby View

40 Underhill Lane, Underhill
Wolverhampton WV10 8NS
Telephone: +44(0)1902 831296
Email: hobbyview@blueyonder.co.uk
DVD and Video specialist, for the rail enthusiast.

SiSt Trees

4 David Home View
Heath Grange
Chirnside
Berwickshire
TD11 3SX
Telephone: +44 (0)1890 817111

Email: sales@themodeltreeshop.co.uk
We are SiSt Trees, suppliers of high quality scale model trees and landscaping materials for discerning modellers!
Suitable for model railways, wargaming, architectural models, cake decorators, dolls houses, gifts...The list is endless!
Solihull Model Railway Circle reserve the right to make changes to our programme and we cannot be held responsible for layout failing to arrive on the day of the exhibition.


Who was there?...
1. Cherwell
4mm Scale, OO Gauge
Solihull Model Railway Circle
A scenic OO gauge, 26 feet 6inches by 10 feet 6 inches, four track mainline with an integral branch line. It features working automatic signals and has largely scratch built buildings. The layout was built mainly to display scale length mainline trains, those being run reflecting the varying interests of the membership. Trains run are usually British outline, but can come from any part of the UK mainland and from any date between about 1900 and 2007.

New for this year includes:
Branch loop halt, signal box and track engineers hut. Lower and upper branch station buildings based on Water Orton. Scratchbuilt buildings above main station with a local theme. Scenery work on the upper tram goods yard. The layout still needs a few more buildings, other scenery work and lots of small detail.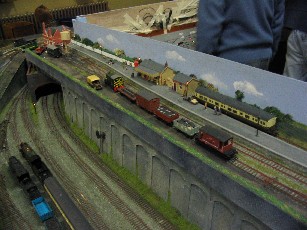 2. Old Gold and Black
3.5mm Scale, HO Gauge
Chris G
Old Gold and black is a bakery complex which sits at the end of a short branch line Served by the CSX, it receives hopper and tanks cars of flour and sugar, boxcars of packaging, and ships out reefers of frozen doughnuts.
3. Lenches Bridge
7mm Scale, 0 Gauge
Mike Bragg
The Black Country is the industrial heartland of the midlands due to its coal, iron and fire clay. On the 2nd of June 1829 the steam locomotive, "Agenoria" proudly opened the railway at Shut End, also known as the Kingswinford Railway. Over the following years the railway was to become part of the Oxford, Worcester and Wolverhampton Railway, more often referred to as the "Old worse and worse". It's this or a least a part of this I have chosen to model. I wanted to try and incorporate features of this area, such as Bromley Basin or the "Wallows", tile and brick manufacturing and one of "The Earl of Dudley's Baggeridge Coal" land sale wharves, as many of the industrial features are being swept away by housing developments, so Lenches Bridge was conceived. Modelling in O gauge with limited space is a challenge and the layout is 9' by 1'6" on 3 baseboards, two 3'6" long and one 2' long. The track plan was kept simple based on a" Box Street" design, consisting of 1x left hand point and a double slip (two points in one). One board contains the left hand turnout, the centre board the double slip, whilst the third contains a sector plate (a sliding row of sidings) – simple.
4. CANCELLED
5. Shenstone MPD
7mm Scale, O Gauge
Alan Wilson
The layout is based on the WR of British Rail, around the mid-late 1960`s. Most of the stock is diesel, although there are a few steam locos. We have a variety of kit built wagons which appear on the layout to add a bit of variety. Any questions please ask.
6. Ardlorn Ferry
4mm Scale, 00 Gauge
Rob Newman
Ardlorn Ferry located on the West Coast of Scotland. There is a small single platform halt which serves the car ferry and 'Elkins' fish dock. There is a quay where fishing boats and the occasional 'Clyde Puffer' load and unload. Other goods traffic is generated by the 'Ardlorn Mist' scotch whisky distillery. Holidaymakers visit the area and British Railways have thoughtfully provided a Camping Coach. Macbraynes, famous for their buses, lorries and ships, have a depot here too.
7. The Yard
4mm Scale, OO Gauge
Birmingham MRC
Loosely based on Hucknall - in the East Midlands. It has been conceived and designed by a new club member, to fit into rear of small car - however, as an additional fiddleyard is now attached, it may require 2 cars! Operation is based on current practice and stock, consisting of modern image freight stock and DMU's. Running on PECO OO-gauge track and using off the shelf models. Details of the various stages in the development and construction are attached to the front of the layout.
8. Enslow
2mm Scale, N Gauge
Solihull N Gauge Group
Enslow has a busy branch line, with a wagon repair works. The works is the main employer for the village. We run a schedule on the branch line and mainlines. Expresses to slow freights can be seen on the 4 track mainline below Enslow.
9. Teddy Bears Picnic
2mm Scale, N Gauge
Ken and Margaret Stephenson
A fun layout, depicting a teddy bears house and garden. A Garden railway runs around the lawn over a pond and through a rockery.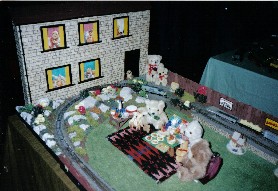 10. Hall Lane to Winter
4mm scale, OO gauge
Richard Boyce
A Non-Purist Hornby Dublo 3-rail scenic layout, counting other products such as: K&M, Riko, Wills, Peco, Lesney, EFE and Modern Hornby.